Pro Member

Group: Members
Posts: 695
Warn:0%

| | |
| --- | --- |
| | |
Heinrich Schutz (1585 - 1672)Symphoniae Sacrae III (2CDs)
(Symphoniarum sacrarum, tertia pars, SWV 398-418, Opus 12)
Label:
Harmonia Mundi, HMC 901850.51
Year:
2005
Performers:
Cantus Colln
Concerto Palatino
Konrad Junghanel - conductor
In late 1650 the sixty-five year old Heinrich Schutz published the third and last part of his Symphoniae Sacrae, a hymn to peace in the aftermath of the Thirty Years War (1618-48). These 'sacred symphonies' laid the foundations for the next century of German Protestant church music.While there have been a number of fine recordings of Heinrich Schutz's earlier Op. 6 (1629) and Op. 10 (1647) Symphoniae Sacrae cycles, his Op. 12 (1650) has been comparatively neglected. Previous to this wonderful new offering by Cantus Colln and Concerto Palatino, the only other complete cycle on CD has been a lackluster (long out of print) performance by the Kammerchor Stuttgart and Musica Fiata, conducted by Frieder Bernius. This situation is somewhat understandable because of a widely held belief that Schutz's earlier settings exhibited greater diversity and more risk-taking in the instrumentation and vocal writing. On evidence here, however, a mature effort that gives the work the outstanding performance it has long deserved, it's readily apparent that in 1650 Schutz's creativity and imagination were as sharp as ever.

Unlike Bernius, whose massive forces routinely obscure the often intricate interplay between the vocal and instrumental parts, Konrad Junghanel's significantly more modest though infinitely more inspired ensembles are capable of revealing the works' abundant wealth of harmonic and textural detail. Among the 21 settings are many highlights, such as the pensively emotive "O susser Jesu Christ" (with soprano duets strikingly reminiscent of the much later Lecons de tenebres of Francois Couperin), and the dramatically intense "Saul, Saul, pourquoi me persecuter", which demonstrate that even in his 65th year Schutz was quite capable of composing remarkably versatile, compelling, and innovative works.

Schutz is equally well served by Harmonia Mundi's engineers, who provide exceptionally detailed, wholly convincing sonics. Urgently recommended to all Schutz enthusiasts–and especially to those who've previously doubted the importance and brilliance of Op. 12 in the composer's canon.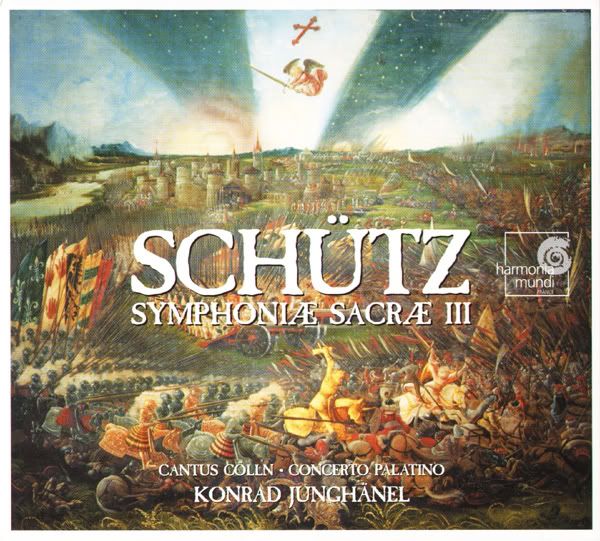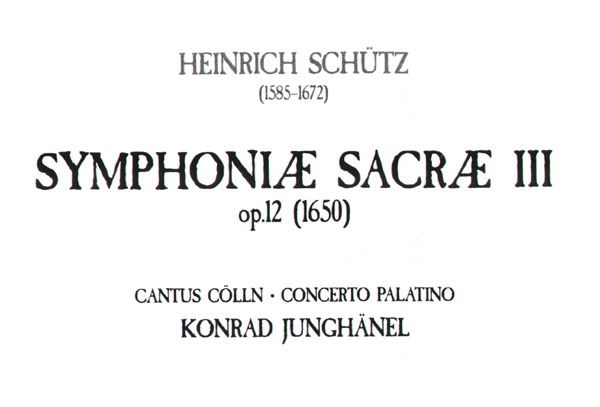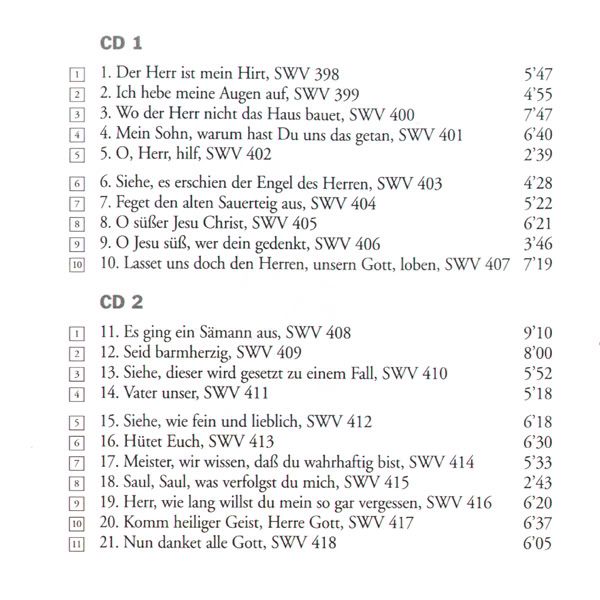 This post has been edited by kgkk on 02-08-2012, 21:42