Pro Member

Group: Members
Posts: 695
Warn:0%

| | |
| --- | --- |
| | |
Arvo Part (Born 11 September 1935 in Paide, Estonia)Creator SpiritusLabel:
Harmonia Mundi, HMU 807553
Year:
2012
Performers:
Theatre of Voices
Ars Nova Copenhagen
NYYD Quartet
Chris Watson - tenor
Else Torp - soprano
Paul Hillier - baritone
Christopher Bowers-Broadbent - organ
Paul Hillier - conductor
Tracklist:
01. Veni creator
02. The Deer's Cry
03. Psalom
04. Most Holy Mother of God
05. Solfeggio
06. My heart's in the highlands
07. Peace upon you, Jerusalem
08. Ein Wallfahrtslied
09. Morning Star
10. Stabat Mater
The selections on this album of music by Estonian "holy minimalist" Arvo Part come from different phases of his career. One, the Solfeggio, dates from 1963, before Part abandoned serialism for his minimalist experiments; it was revised and simplified a good deal in 2008, however. The centerpiece (and finale), the Stabat Mater, was composed in 1985, and several of the shorter pieces date from the 2000s. The repertoire is divided between sacred choral pieces and short secular pieces of various kinds, all culminating in the giant, hypnotic, and virtually symmetrical Stabat Mater. Conductor Paul Hillier, who despite the profusion of new recordings of Part is still tough to beat, structures the program so as to use various ensembles: his own small group Theatre of Voices (also including an organ), the larger Ars Nova Copenhagen, and the NYYD Quartet. This tunes the ear to the subtle contrasts that are essential to Part's often almost static later music, and the whole therefore gathers in intensity as it proceeds. There aren't really any examples of Part's tintinnabulation (bell-like) texture, bringing home the degree to which he has purified and simplified his music even as he, like Western minimalists, has readmitted some aspects of functional harmony. The sacred a cappella pieces emerge as a kind of timeless chant, akin to but quite different from traditional forms of Orthodox chant, and the starkly simple secular pieces function as interludes. Sample the unique setting of the English-language traditional ballad My Heart's in the Highlands (track 6), where the vocal part consists only of a single note. The cumulative effect is powerful indeed, and the musicians are backed up by superb engineering from Harmonia Mundi. If you are interested in the development of Part's music over time, you could hardly do better than this release.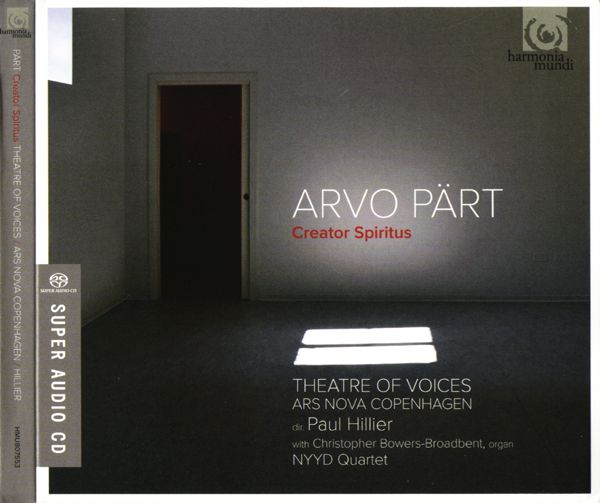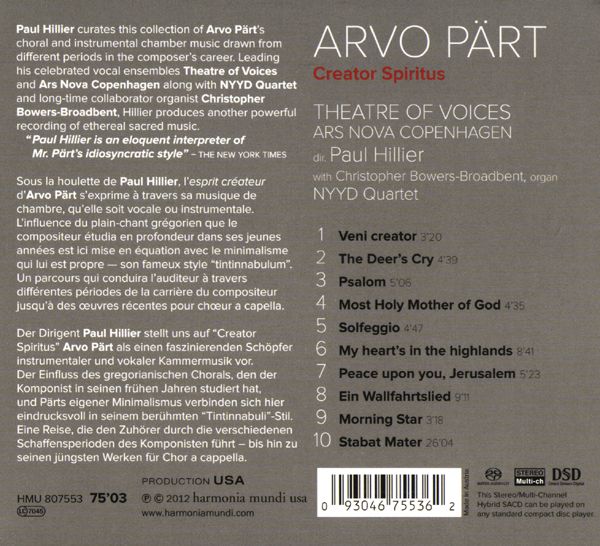 This post has been edited by kgkk on 17-04-2013, 22:41