Pro Member

Group: Members
Posts: 695
Warn:0%

| | |
| --- | --- |
| Артист: | Leipzig New Bach Collegium Musicum |
| Альбом: | Johann Sebastian Bach - Solo Concertos (3CDs), 2009 |
| Издатель: | Capriccio / Phoenix Edition 400 |
| Жанр: | Classical |
| Формат файла: | EAC / FLAC / CUE / LOG |
| Ссылка: | CD |
| Нахождение: | Torrent |
Johann Sebastian Bach (1685 - 1750)Solo Concertos (3CDs)Label:
Capriccio - Phoenix Edition 400
Year:
2009
Performers:
Leipzig New Bach Collegium Musicum
Max Pommer - conductor
It is hard to ascertain how many instrumental concerts Johann Sebastian Bach has composed: many relevant sources were lost, while biograhpic and historic documents are sketchy. Many transcriptions are known from the period between 1713 and 1714.
Some evidence points to the fact that Bach started with composing own concerts in those years.

Since decades the question arises again and again whether some of Bach's Leipzig concerts base on works of his sojourns in Weimar and Kothen. Since the end of the 19th century many attemps were undertaken to recreate lost originals – some successful, some not, and with different claims for authenticity.

Some cases are rather unproblematic, while others resist attemps of reconstruction, or are full of complications after rebuild. The concerts on this CD are the attempt of rebuilding lost versions and to discover Bach's early period – and the result is positive.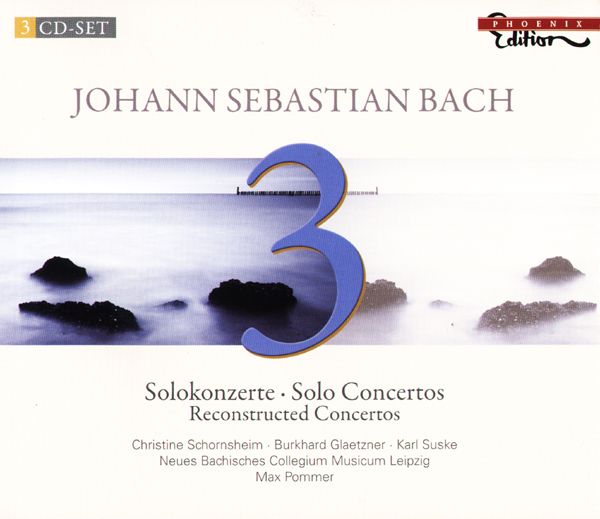 This post has been edited by kgkk on 19-09-2013, 22:33
| | |
| --- | --- |
| The following members said 'Спасибо!': | ArCanon, edenika, shatterhand, taurus66, worand, blade2k, platico, arizonadream, Гордый, Pr3ss, KeyGen, Arzy, Siget, doremi, sadxa, Raritet, vitolinform, Navy Hellcat, mitay |