Pro Member

Group: Members
Posts: 695
Warn:0%

| | |
| --- | --- |
| Артист: | The Dmitri Ensemble, Tom Winpenny - organ |
| Альбом: | Judith Bingham - Organ Music, 2011 |
| Издатель: | Naxos / 8.572687 |
| Жанр: | Classical |
| Формат файла: | EAC / FLAC / CUE / LOG |
| Ссылка: | CD |
| Нахождение: | Torrent |
Judith Bingham (b. 1952)Organ MusicLabel:
Naxos, 8.572687
Year:
2011
Performers:
Tom Winpenny - organ
The Dmitri Ensemble
Graham Ross - conductor
Organ music holds a special affection for leading UK composer Judith Bingham, and the repertoire in this programme reflects a cross-section of her themes and work both recently composed and newly arranged. Experienced broadcast performer Tom Winpenny is joined by the acclaimed group, The Dmitri Ensemble, for the atmospheric concerto Jacob's Ladder, while the rebuilt St Albans Cathedral Organ is an ideal instrument for works such as the improvisatory Annunciation I and radiantly charming Hope, recorded, as was all the music on this album, in the composer's presence.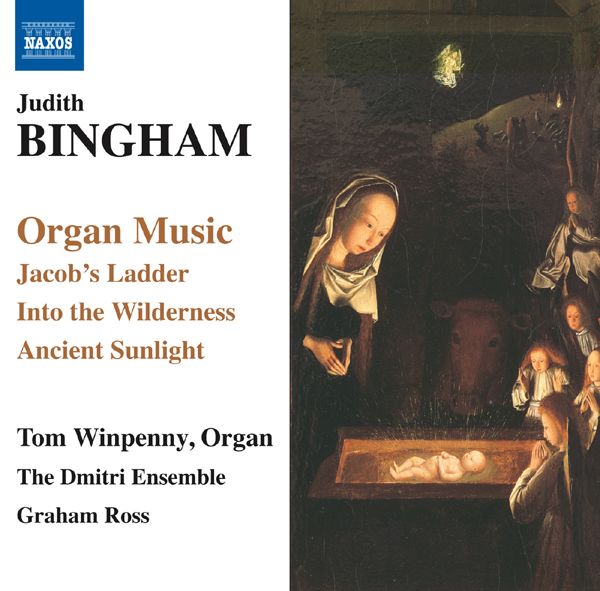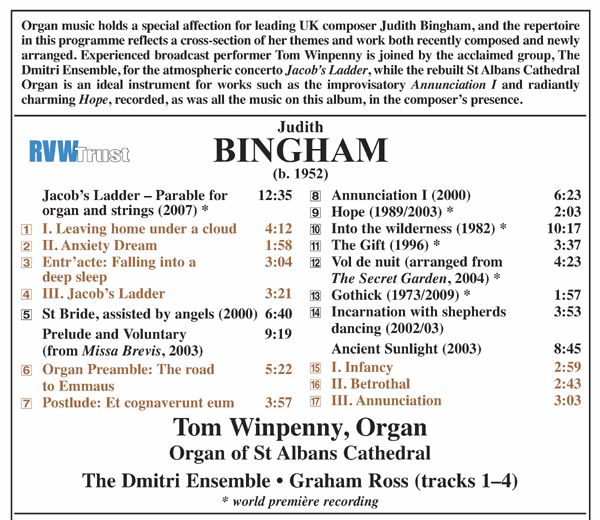 This post has been edited by kgkk on 28-04-2014, 00:48
| | |
| --- | --- |
| The following members said 'Спасибо!': | Гордый, ArCanon, edenika, arizonadream, shatterhand, worand, blade2k, mitay, Siget, doremi, pepeillo |